Beyond the Looking Glass – Bombardier Cultural Centre
My Beyond the Looking Glass series will once again be on show this fall at the Centre culturel Yvonne L. Bombardier located in Valcourt.  Entitled APPARENCES, the event will also feature the works of photographers Chloé Beaulac and Luc Pallegoix.
The opening reception will be held Sunday, September 15th, at 2 PM, in the artist's presence.
A good reason to visit the Eastern Townships, one of the most beautiful parts of Quebec, where I grew up!
APPARENCES
15 September - 15 Decembre 2019
Centre culturel Yvonne L. Bombardier
1002, avenue J.-A. Bombardier
Valcourt, Québec, J0E 2L0
Admission is free.
CHLOÉ BEAULAC
Dans l'exposition Apparences, l'artiste multidisciplinaire Chloé Beaulac met en scène de façon magistrale la relation entre l'homme, la nature et le territoire qu'il occupe en utilisant un amalgame de symboles. Composé de trois séries distinctes, le corpus propose des récits ouverts empreints d'imaginaire et de mysticisme laissant libre cours au questionnement. Photomontages, sérigraphies, pyrogravures, dessins, plusieurs techniques sont utilisées par cette spécialiste de l'art imprimé. Ce pèlerinage contemporain dans l'univers onirique de Beaulac vous fera, entre autres, découvrir des sanctuaires inusités à la limite du réel, sillonner notre Québec rural à travers un roadtrip photographique intemporel et côtoyer des animaux surnaturels dans un habitat métamorphosé.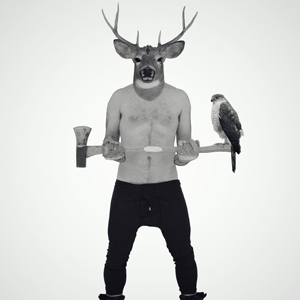 LUC PALLEGOIX
L'artiste et auteur Luc Pallegoix propose deux séries photographiques qui s'interpellent et se répondent. La suite Le cerf ectomorphe – The queer deer présente une harde d'hommes-cerfs, personnages humains à têtes d'animaux, qui se croisent, nous observent et racontent notre époque, telle une comédie humaine zoomorphique et décalée. La série Les petits mondes propose une vision distordue de notre environnement en nous en extirpant. Nous conviant ainsi à mieux en percevoir les nuances et la splendeur. Une exposition située entre la question et la réponse, intrigante et enveloppante, révélant le beau de l'amoché, la fragilité de la force.
CATHERINE RONDEAU
Place à l'enchantement! Le travail de l'artiste photographe Catherine Rondeau investit un univers singulier : l'imaginaire enfantin. Ses images s'inscrivent dans le sillage d'études sur le conte merveilleux. Elles mettent en scène ses enfants qui, tels des héros de récits fabuleux, affrontent leurs peurs et assouvissent leurs désirs. Empreints de poésie et de candeur expressive, les trompe-l'œil oniriques de l'artiste invitent à plonger dans la rêverie grouillante et bigarrée de l'enfant occupé à négocier son rapport au monde.
OPENING HOURS
Sunday:
from 1 PM to 5 PM
Tuesday, Thursday and Saturday:
from 10 AM to 5 PM
Wednesday and Friday:
from 10 AM to 8 PM