AN INCURSION IN CHILDREN'S FANTASY WORLD
Undertaken to punctuate and serve as a creative impetus to the content of my book Aux sources du merveilleux, une exploration de l'univers des contes, an essay published in 2011 about the role wonderment plays in folk and fairy tales, my series Beyond the Looking Glass probes the fluid boundaries between the imaginary and the real in childhood.
The dreamlike images from this series blur the boundaries between reality and fiction as they portray the ways in which children use their imagination daily to venture, much like Alice in Wonderland, down the rabbit hole — a pursuit which allows them to release inner tensions and overcome the difficulties encountered by their developing selves. Indeed, a child's fantasy life is kindled by a combination of contradictory fears and desires which, through play, help him to better deal with the very real pressures of growing up and having to shape his identity in a constantly changing body. Pretending to don the skin of a furry animal, to disappear magically, to fight off monsters or become omnipotent allows children to safely explore and balance out the different facets of their blossoming psyches. Tinged with poetry and expressive candour, my whimsical trompe-l'œils are invitations to dive into the teeming, colourful reverie of a child actively negotiating his place in the world.
« The exhibition Beyond the Looking Glass was a wonderful success in Dorval. Visitors came in large numbers and were charmed by the fantastic images of Catherine Rondeau. An experience not to be missed! »
Sara Giguère, cultural agent, Peter B. Yeomans Cultural Centre, City of Dorval, 2017
« Catherine Rondeau's works are true gateways into the imaginary world of childhood. Full of sensitivity, sometimes humorous, sometimes tragic, the images convey a sense of wonderment essential to the development of a child who, tomorrow, will have to invent the world. »
Ève Simard, Director at the Centre d'art de Kamouraska, 2013
« It's the most beautiful exhibit I've seen in twenty years! »
Antoine Desilets, Rendez-vous photo du Richelieu, 2012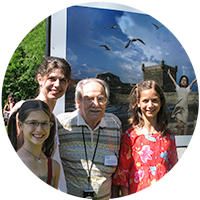 CULTURAL MEDIATION POSSIBILITIES
During exhibitions, the photographic series Beyond the Looking Glass lends itself wonderfully to several types of cultural mediation activities aimed at young audiences. Even adults will get into the game!
In this video, I discuss the functions played by imagination in the psychic development of children and I give some keys to understand the works in my photo series Beyond the Looking Glass.
Don't forget to display the video's English subtitles of needed.