The Culture in the Schools program is a designed to produce citizens who are actively involved in cultural life by increasing the number of cultural experiences offered to students. The Cultural Workshops component helps bring artists into the schools to share their creative processes with students in a workshop setting. Depending on the region and available resources, the grant can cover up to 100% of expenses.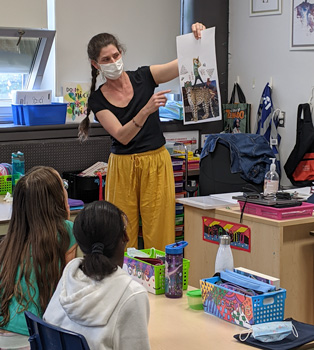 SUBMITTING A PROJECT PROPOSAL
Submitting a project proposal is simple, all that is required is filling out a short form, which is something I am used to doing. The deadline is always around mid-October and the answers usually arrive a month later. So far, my projects have always been accepted.
CUSTOMIZED WORKSHOPS
The visit of an artist is often an opportunity to explore in a different way subjects previously discussed in class. Depending on the needs of the teachers, I am open to adapting the content of my workshops to specific themes. Since my artistic work relates to a multitude of spheres, the range of possibilities is vast: the realm of fairytales, the functions of the imagination, the questioning of identity, symbolic language, the power of the media, the links between art and technology... and so on!
Below are some examples of workshops I have conducted. If you teach in an elementary or secondary school, please feel free to contact me to discuss a collaboration.
PHOTOGRAPHY: REALITY OR FICTION?
This workshop echoes a learning module devoted to mass media. First, I use my photomontage work, and especially the images from my series Beyond the Looking Glass, as a springboard to question the relationship between photography and reality.
Through a forty-minute or so illustrated presentation that encourages interaction, students are made aware of the power of the photographic image and of the importance of developing a critical vision at a time when we are more than ever bombarded by highly manipulated digital images.
After recess, it's time to get creative!
Works by grade 5 students, ÉPEI, Trois-Rivières
The experimentation part of the workshop consists in making a surreal photo-collage from a portrait photo and images found in magazines. Before my visit to the school, following my recommendations, all the students are photographed individually and in various poses, which allows everyone to work from their own image.
With scissors and glue, the kids cut and paste their portraits into whimsical visual compositions. The students have about an hour and a half to look through the magazines provided, locate, cut out and assemble all their images. The results are often hilarious!
This workshop can be done in one visit lasting a total of two and a half hours.
THE MAGIC OF DIGITAL PHOTOMONTAGE
For schools that have tablets available, I offer a workshop to learn the basics of digital photomontage. This option requires 3 to 4 one and a half hour periods.
Again, it is interesting to allow the students to work from their own images. For best results, it is preferable to set aside a full period for shooting under my supervision.
Depending on the age of the students, different themes can guide the composition work: miniature, identity, environment, etc. Objects brought from home can also be photographed and included in the artwork.
Works by grade 6 students, École Des Berges-de-Lachine
Selected illustrations from the presentation.
This workshop explores the more specific link between technology and art. The topic is exciting. From the advent of perspective painting based on mathematical principles to the hyper-high tech immersive art that can be seen at the Society for Arts and Technology (SAT) in Montreal, the arts have always been influenced by technological and scientific advances. I had a lot of fun preparing a presentation that traces the many encounters between the scientific and artistic worlds. An express journey rich in anecdotes and illustrations.
Stop-motion video, the basis for animation
Spread over two half-days or three two hours periods, this workshop allows students to design and produce a short stop-motion animation video. The stop-motion technique is ideal for understanding the basic principle of animation (as well as video and film): the rapid succession of still images. Equipped with digital tablets, students take pictures of drawings or small objects that they move, little by little, on a stable plane to tell a story. Once the images are woven together, the students record their own soundtracks. This workshop is always a big hit!
Selection of excerpts from stop-motion films made by students at the PEI school in Trois-Rivières.
Regarding Catherine Rondeau's animations, I really appreciated the care she showed to meet our very specific needs. She listened and adapted to our research modules, which is not easy for an outsider to our program. Catherine accompanied our students in their creative process with great attention to detail and kindness. I was amazed by the quality of our students' creations. We look forward to having her back next year!
Anne-Marie Gilbert, Grade 5 teacher, International Elementary School, Trois-Rivières
Thanks again to Catherine for her work in our classes. I completely agree with Anne-Marie's kind words. We often have a specific vision and goal and she was a great listener to help us achieve it...
Sonia Gagnon, Grade 5 teacher, International Elementary School, Trois-Rivières