The Bewitched Canoe, a Jolly Subversive Christmas Tale
Acabris! Acabras! Acabram!
May the holiday season be magical and allow yours stories to soar high above the pine tree line to jump from the old year to the new one. 
What about the Devil?
We're taking him on board, of course! The cotillion is much livelier when he's there to warm bodies and souls!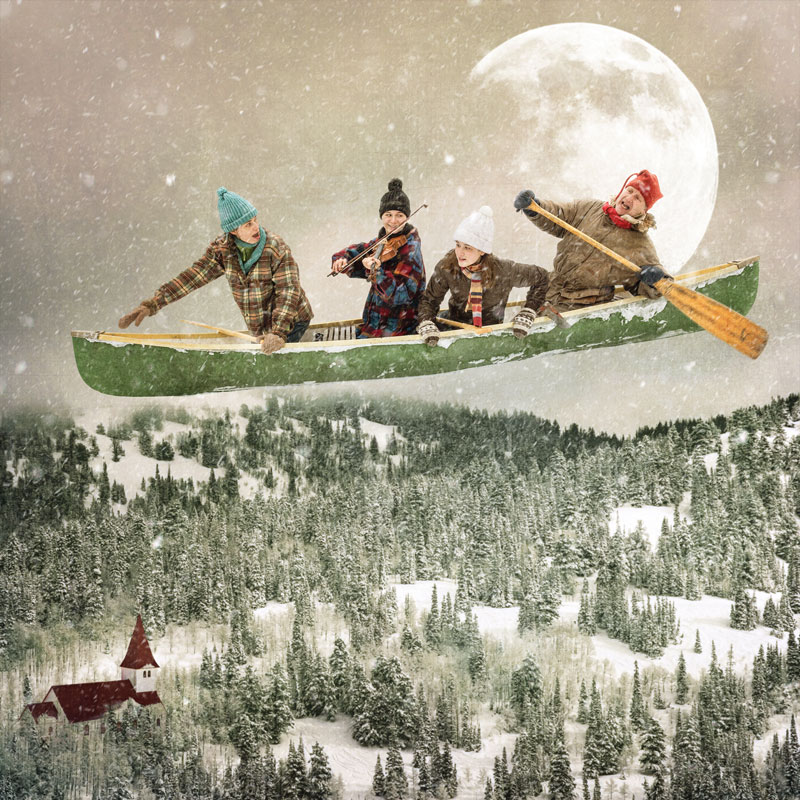 Homemade Christmas cards, a family tradition
We took flight this year inspired by the popular French-Canadian tale La Chasse-galerie (The Bewitched Canoe). On New Year's Eve, a group of lumberjacks working at a remote timber camp want to visit their sweethearts some 100 leagues away. The only way to make such a journey and be back in time for work the next day is to make a pact with the devil so their canoe can fly through the air. To save their souls, the travellers must not mention God's name or touch the cross of any church steeple. Soon the men are dancing and celebrating merrily. The return trip proves more perilous as their drunken navigator begins swerving and swearing. The terrified crew end up steering their vessel into a tall pine. Thanks to a rather merciful Lucifer, the men miraculously wake in their beds the next morning, bruised but souls intact.
We probably won't be landing on your doorstep, but may our enchanted canoe deliver our warmest wishes for the New Year and contribute to spreading some holiday cheer.
Making homemade Christmas cards has been a family tradition in our home for over twenty years.
See previous editions.